Our Institute
The Institute is the education wing of Discover Islam. Its aim is providing Islamic education courses for anyone interested in acquiring knowledge of Islam. The institute runs courses on various topics and is aimed at all ages and beliefs. We call on some of the best scholars in the Muslim community to run our courses.
Current Courses: Registration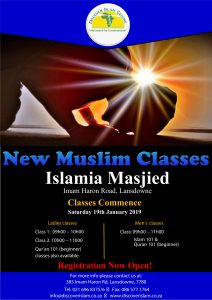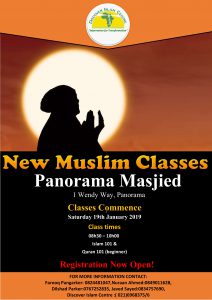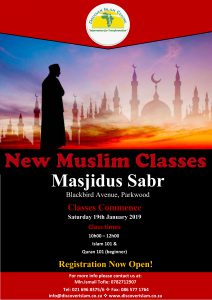 New Muslim Classes : Covid – 19 Update
Assalaamu Alaikum Wa Raghmatullaahi Wa Barakatuh
Duahs you are well In shaa Allah
Discover Islam strives to fulfill our mission and vision
~Building bridges through knowledge~
We have several different platforms i.e. Township Madaris weekly for children, evening and weekend classes for adults ~ New Muslim classes on Saturdays ~ scheduled consultations & New Muslim support session
For the health and safety of our teachers and students we have put it forward and each venue will conduct classes as they see fit In shaa Allah
We have different teaching methods available:
Females
Lansdowne
Level 1 & 2- Fiqh
🌀Whatsapp video conference and documents posted
Males
Lansdowne
🌀TEAM app for online classes
🌀Whatsapp video conference and documents
Males & Females
Panorama
Fiqh
🌀ZOOM app for online classes
🌀Whatsapp video conference and documents
Pls contact our office to register and schedule pick up of literature packs
Discover Islam
506 Lansdowne Road
Lansdowne
7780
Tel: 021 761 2270 /4280
Email: info@discoverislam.co.za
 Our Mission
The mission of Discover Islam is to share the beautiful message of Islam.
To provide multi-faceted support for new muslims and help build a vibrant community.
Our Vision
Our vision is to become the leading facilitator for Da'wah in Africa; To convey the message of Islam internationally; Be a self-sustaining model within a complex which will be a centre of Da'wah activity.
    Location
506 Lansdowne Road, Lansdowne

Cape Town, South Africa

Tel: 021 761 2270 / 021 761 4280

Fax. +2786 577 1764