Graduation
Discover Islam has several branches focusing on Da'wah Outreach, Da'wah Awareness, fundraising and one of the main components if the education wing.
The Fiqh classes are targeted at Non Muslims and New Muslims and offers the basic understanding of Islam, The fundamentals and the Pillars and Principles of Islam.
This one year course assists them with their transition and so we honour them with a graduation ceremony that also doubles up as our year end for our loyal volunteers In shaa Allah.
We have students graduating from our different branches:
Lansdowne
Uitsig
Panarama
and soon we look forward to the graduating class of Panorama In shaa Allah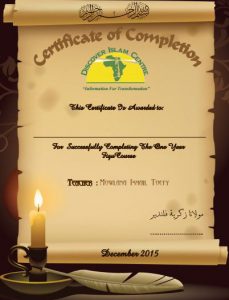 Our Mission
The mission of Discover Islam is to share the beautiful message of Islam.
To provide multi-faceted support for new muslims and help build a vibrant community.
Our Vision
Our vision is to become the leading facilitator for Da'wah in Africa; To convey the message of Islam internationally; Be a self-sustaining model within a complex which will be a centre of Da'wah activity.
Location
506 Lansdowne Road, Lansdowne

Cape Town, South Africa

Tel: 021 761 2270 / 021 761 4820

Fax. +2786 577 1764